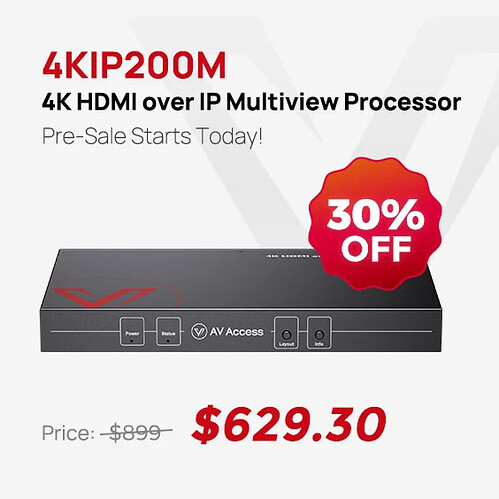 Dear Client,
EXCITING NEWS! Our new 4K HDMI over IP multiview decoder (4KIP200M) has been released on our site.
It can work with 4KIP200E/4KIP204E encoders to display up to 4 different sources on a single screen, with 4 different layout modes (single view, picture-in-picture, vertical triple view, and quad view). It is ideal for wide applications in sports bars, shopping malls, houses of worship, casinos, etc.
The IP decoder was originally priced at $899. Pre-order now to enjoy 30% off ($629.30). Limited to just 100 units, this exclusive pre-sale ensures availability of the product. Shipping for these units is estimated to commence in mid-November.
Don't miss out on this incredible opportunity to upgrade your sports bar video system. Pre-order now and save big!