HDMI 2.1 KVM Switch for a Single-view Setup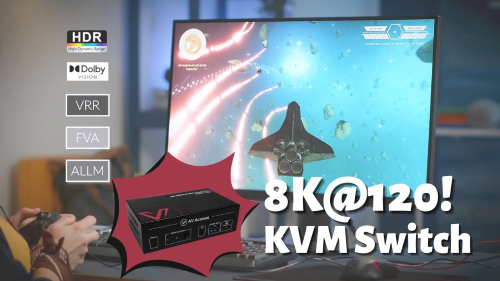 Click to watch the featured video on Youtube
This HDMI KVM switch (8KSW21-KVM) supports high resolutions and refresh rates up to 8K@120hz and with DSC, this will go up to 10K@120hz. This is a single monitor model and it is built with a 5-port USB hub and a 3.5mm port for a headphone with a mic.
This is a perfect pick for users who have basic needs of switching between 2 devices for a single-screen setup and want high resolutions and refresh rates for vivid view and immersive gaming.
DisplayPort 1.4 KVM Switch for Dual Monitors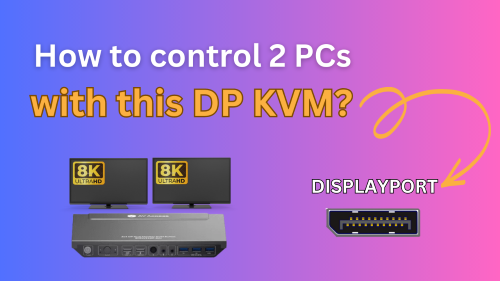 Click to watch the featured video on Youtube
This is a DisplayPort 1.4 dual monitor KVM switch (8KSW21DP-DM) that supports 8K@60hz, 4K@165hz, and 1080P@240hz. Your devices might not have enough HDMI ports for a dual-view connection, and a DisplayPort KVM switch would be more friendly for this.
The model offers five USB ports for all your peripherals and rich switching methods – IR remote, switch button, and Hotkey. If you do multi-tasking a lot and would love to switch 2 computers between a dual monitor setup, this is what you shall try. For a video editor, a programmer, a graphic designer, or a gamer, you deserve the DisplayPort 1.4 which brings you brilliant images and an immersive gaming experience.
USB KVM Switch for Your Dual-view Setup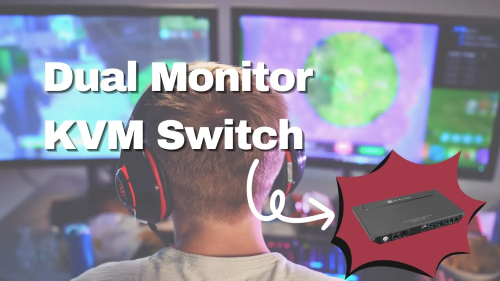 Click to watch the featured video on Youtube
This KVM switch (4KSW21-DM) supports video up to 4K@60hz (4:4:4) and dual HDMI Out for two screens. It is built with a USB switch feature so that you can switch between KVM mode and USB mode. USB mode allows you to display both systems on your dual screens and work on them by just routing the USB connection.
Connect your PS5/Nintendo Switch and work PC to the switch and you can easily switch between work and entertainment.
USB-C KVM Switch with Docking Station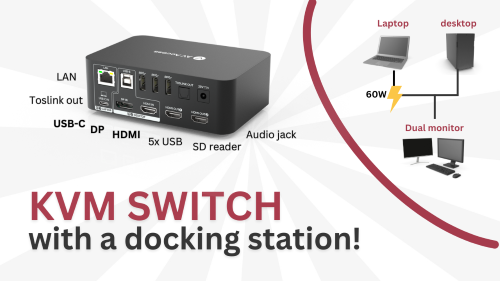 Click to watch the featured video on Youtube
AV Access has taken KVM switches to the next level by integrating a docking station into their 4KSW21-DK model. This innovative combination of a KVM switch and docking station offers a unified solution for professionals who need to connect a laptop and a PC and share two monitors, USB devices, and many other devices like an SD card and an S/PDIF amplifier between them.
You will love the design. There is an Ethernet port on the KVM to offer a stable connection for your laptop. The USB-C is a 60W charging port and will constantly keep your laptop charged. This port also is MST-supported so that you can connect your laptop to two displays with only one cable.
With the 4KSW21-DK, you can switch between your laptop and PC, and connect various USB devices effortlessly, streamlining your workspace and reducing cable clutter.
More USB-C KVM Switches
There are more USB-C KVM switches coming out! For users who want to connect more devices altogether, we are working on these two brand-new models (coming soon in a few months):
Three-in-one KVM for Home Office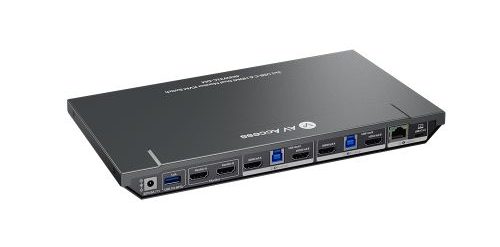 4KSW31C-DM is a 3 In 1 Out KVM switch that supports DisplayPort 1.4a (USB-C) and HDMI 2.0 for a dual monitor setup. You can connect to your laptop, desktop PC, and game consoles. The full-featured USB-C port will be charging your laptop with up to 65W.
This KVM also supports auto PC wakeup and EDID emulation so that your desktop will always be neat and in order.
Four-in-one KVM for Gaming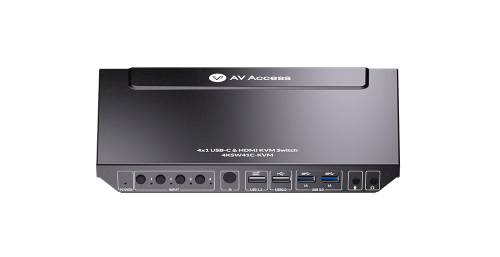 4KSW41C-KVM is a model that supports 4 In 1 Out to connect your HDMI and USB-C devices. If you're an enthusiastic gamer and have everything like PlayStation, Nintendo Switch, Xbox, and Steam, this is a good pick to build up your entertainment center and connect them all together.
Source: Best KVM Switches for Home Office Setup in 2023 - AV Access